Home | Bio Part 2 | 1st Grade | ODP Links | Religous Observations
Family Picture | Biker Dude | HTML Stuff | California Photos
Tailgunner404

My Honda 450
Or how I tried to fall into the Ocean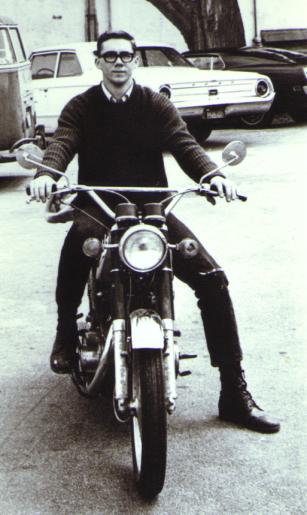 Okay I know I look dorkie on the bike. Notice the broken turn signal? Notice the rip in my jeans? These are the direct result of trying to prove I could ride a MotorCycle, when I could not...well I could, but not well. I was riding my bike in Northern California out toward Point Reys one lovely summer day, when a guy on a Norton Snorter whizzed by me...I was feeling ten feet tall...I had a Honda 450 between my legs and I could ride fast too!....NOT... I forgot to take into consideration that I had ridden a motorcycle for only two weeks and this guy had years of experience. I cranked open the throttle and away I went...except that the road was hilly and winding and I had no idea how to lean into a curve....oops...
slide...lost the backend in the gravel on the side of the road...luckily I ended up on top of the bike...with a ripped pair of jeans and a broken turn signal. Moral of the story is take lessons and learn how to ride safely before you try to prove how good you are.
Oh yeah...what about the ocean? Well the next week I was riding on Highway 1 toward Big Sur just cruising along enjoying the scenery when I let the rear end of the bike drift off the road onto the gravel...lost the backend again and down I went. No big deal as I now had experience in dropping a bike. Except that this time the Pacific Ocean was about 200 feet straight down into rocks...ouch. Again I lucked out and ended up at least a foot from the edge. Lesson 2: concnetrate on riding and traffic not scenery!
If you are interested this picture was taken in a parking lot at the Presideo of Monterey sometime in the Fall of 1970.
Click Here to contact Tailgunner404


Home | Bio Part 2 | 1st Grade | ODP Links | Religous Observations
Family Picture | Biker Dude | HTML Stuff | California Photos

Site Copyright 2001 by Bruce Perdue All rights reserved